Inspired by the classic tale of 'Beauty and the Beast', our Enchanted Rose is a fantastic way to instantly add an aura of enchantment to any room.
CREATIVE, DECORATIVE, UNIQUE, LED LAMP

This stylishly designed Enchanted Rose brings any room to life. With around 20 bulbs of subtle warm white light and constant lighting mode, it provides great mood lighting and can be placed anywhere. This table lamp is an excellent focal point in an office, bedroom or living area.

Roses have long been a symbol of love and passion, used for hundreds of years to convey feelings of love, joy, enthusiasm, passion, friendship, and purity. Here at likesmallfun, we've taken a tradition spanning thousands of years and put a modern twist to it!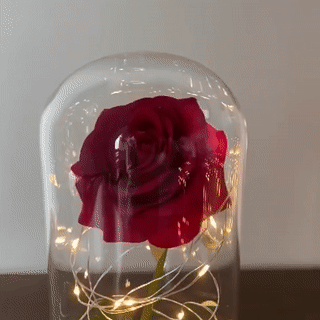 The Enchanted Rose is a thoughtful gift that is perfect for a number of occasions -- be it for a friend, significant other, or family member.
We've serviced thousands of customers over the years, and stand by our quality of craftsmanship and customer service. If you have any questions or concerns, please don't hesitate to reach out at likesmallfun@gmail.com
Product Details
Dimensions: 10.3 x 5.6 x 5.4 inches
Battery Type: 2x (AA) Not include

Material: Glass dome, Pine wooden bottom
Usage: Decoration, Gift Light
Color: Warm White
Switch: ON/OFF