PRODUCT DESCRIPTION
Are you still worried that the secret in your phone is being peeked? Your mobile banking and payment information will be a leak? Afraid that someone always has eyes on you.

DON'T BE AFRAID! THE POWERFUL TECHNOLOGY WILL PROTECT YOU IN EVERY ASPECT!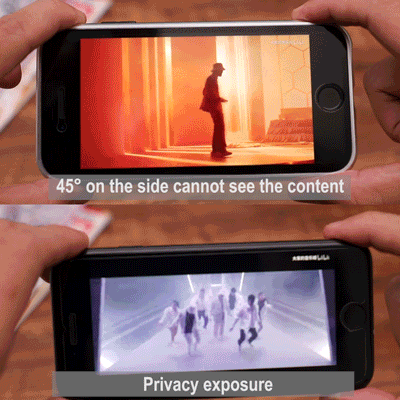 Privacy technology:
After applying, you can see your screen from the front but it goes invisible when seeing from the two sides, thereby keeping your privacy safe. (Important: This screen protector is designed to filter out a portion of screen brightness. For optimal usage, turn up your preferred brightness during the day to day operation.)

Made for Apple iPhone:
Tempered Glass Privacy Screen Protector for Apple X double-sided anti-peeping magnetic king mobile phone shell, this screen protector is fully compatible with 3D-Touch technology for iPhone.
Easy Installation:
We promise a super easy, rainbow-free, halo-free, frustration-free and bubble-free installation that will leave the protector perfectly contoured to your iPhone 8, even if you have no installation experience.

Daily protection:
Designed with a hydrophobic and oleophobic coating and an anti-scratch surface to protect your screen from accidental spills, oil residue from fingerprints, bumps and daily wear-and-tear.
Privacy Screen Protector will help you keep your private messages private making sure that your screen is for your eyes only. 
The design is simple, allowing only the person holding the phone to see the screen. Never again will you have to cover your phone just to communicate in secret.
【Magnetic adsorption design】:

 

Strong magnetic field adsorption technology take you to the new case era. From now on, case installing became a pleasure. It makes your iPhone stand out among crowd.It lets you see your screen but keeps other from looking over.Anti-peeping privacy protector keeps your information private from others.
【All-round defence】: Full body metal frame protection & Anti-drop & Shock-absorbing design.
Anti-blue light and eye protection
【Super easy installation】: Magnetic strong adsorption mobile phone shell (a total of 16 magnetic points) automatic closing, easy to assemble.The surface of the protector has a hardness of 9H, three times stronger than regular PET film.
[Precise cutoff]: Support wireless charging, does not affect signal transmission. When the case is in contact, it's very seamless, the slim case is perfect for your device, and you can easily access all ports, speakers, chargers and all iPhone features.
Made to protect the LCD from damage and scratches with specially processed glass that has been reinforced to increase shock absorbency.
Anti-Shatter feature: If broken, the protector breaks into small pieces that are not sharp, making it safer than other glass products.
Size:
New Design All-inclusive Glass Case for iphone Xr,Note:Support Wireless Charging
Material:
No need to apply film,Metal edge,back and front glass
Function:
Anti-peeping, protecting privacy anytime and anywhere.Front and Back Glass Metal Edge give your phone have a 360 degree protection
Design:
The antenna bits are independently opened and do not affect the signal.All-inclusive, strong material, anti-fall strength,Arc design, ergonomic, bare metal feel