WANT FREEDOM FROM ACNE, WRINKLES AND OTHER SKIN ISSUES?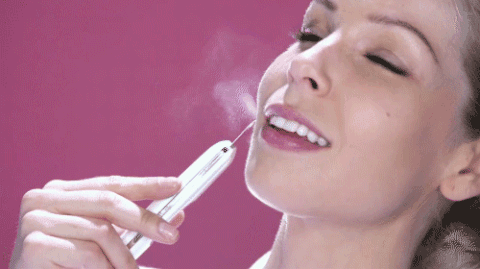 Skin issues and the ageing process can have a debilitating effect on quality of life,
bringing to the surface much insecurity for some people.

 

That no longer has to be an issue though.
With this Ultrasonic Facial Cleansing Device, from just a few minutes a days use, it will start to tighten and lift the skin, restoring natural tone and
 

definition, and deep cleanse the pores, in turn clearing your face of whiteheads, blackheads and eventually acne.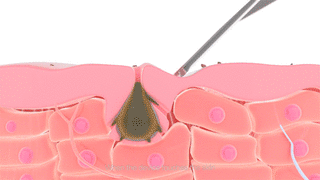 THE FUTURE OF SKIN EXFOLIATION AND REJUVENATION IS HERE!
Using our Ultrasonic Facial Cleansing Device you will see fast results, with ultrasonic wave vibrations instantly penetrating the skin, flushing out the pores of all forms of dirt and bacteria.
✅
  - CLEANSE THE FACE - Reaches deeper layers of the skin with no effort, loosens and flushes out troublesome bacteria and dead skin cells.
✅
  - STIMULATE COLLAGEN AND ELASTIN PRODUCTION - This newly produced collagen acts as a wrinkle filler and elastin helps to maintain the skin's natural elasticity. In turn making the skin smoother and more healthy-looking.
✅
  - ELIMINATE SKIN VASCULARITY ISSUES - Awakens the face and improves circulation throughout it combatting various skin issues such as acne, redness, spider veins and rosacea.
✅
  - REVERSE SIGNS OF AGEING - Improves absorption of skincare products, overall skin colour, and evenness by diluting pigmentation and dark-spots. 
✅
- SAVE THOUSANDS ££$$ - 
No more need to fork out money for all sorts of skin treatments and facials at salons/spas every few weeks. This device is a one-time investment that will keep your skin clear and rejuvenated for years.
COMFORT AND PRIVACY
What used to be a thing of salons, spas and much spending is now as simple and easy as picking up this device in the comfort and privacy of your own home!
DEEP CLEANSE AND EXFOLIATE - RESTORE RADIANCE AND YOUTH
DON'T LET YOUR SKIN STOP YOU FROM DOING WHAT YOU WANT TO DO
It's common knowledge that having smooth, clear and healthy skin can give you more confidence.
Suffering from skin issues of any severity isn't a great feeling for a person, but waiting around for a miracle to happen doesn't really help anything either! 
3 KEY SETTINGS
The Ultrasonic Facial Cleansing Device has 3 settings intended for each key stage of the Facial Cleansing process: 
CLEANSING
This setting loosens up the pores to remove any dirt, pollutants, impurities and oil trapped in the epidermis. This relieves congestion and the shedding of dead skin cells.
LIFTING
The lifting setting stimulates collagen production and enhances blood circulation, rejuvenating your skin, reducing the appearance of fine lines and wrinkles.
MOISTURISING
Skincare products lose their effectiveness when your pores are clogged and congested.
The moisturising setting enhances the penetration of the active ingredients in your skincare products which increases their potency.
The ultrasonic waves in this device stimulate the skins nutrient absorption and cell penetrability to reveal a refreshed and revitalised complexion.
We recommend using your favourite skincare products including deep cleansing oils, creams, serums, cleansing foams, and essential oils.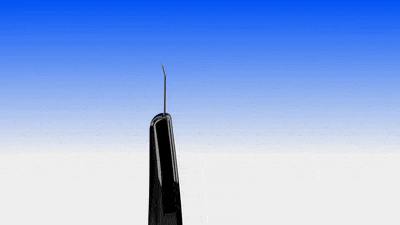 HOW TO USE
1. Prepare the device, make sure it is charged and turned on.
2. Wet the skin mildly with your hands or using a facial water spray. The face needs to be wet for the device to glide smoothly so can re-wet it throughout. 
3. Set the device to the Cleansing setting and using the end of the spatula go over all areas of the face in upwards/outwards motions for at least 5 minutes (can do it for a lot longer if needed). See images below for a clearer idea. 
4. Set the device to the Lifting setting and using the end of the spatula go over all areas of the face in upwards/outwards motions.
5. Apply a moisturiser or one of your favourite skincare products onto the face.
6. Set the device to the Moisturising setting and using the angled part of the spatula go over all areas of the face penetrating the applied moisturiser/skin product deep into the skin. 
FOR CLEANSING AND LIFTING USE THE END OF THE SPATULA LIKE THIS: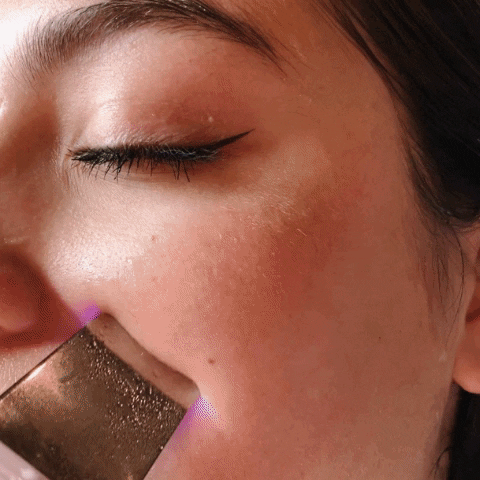 FOR MOISTURISING USE THE ANGLED PART OF THE SPATULA LIKE THIS: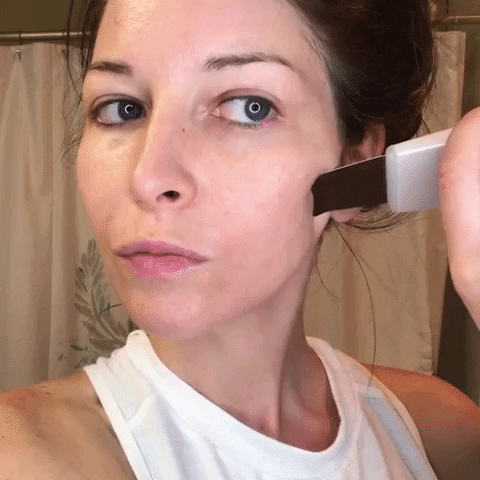 SAVE MONEY BUT STILL GET SPA-QUALITY RESULTS FROM THE COMFORT OF YOUR OWN HOME!
- 1x Ultrasonic Facial Cleansing Device
30 DAY MONEY BACK GUARANTEE
If your order isn't what you thought it would be or is lost/damaged in transit, then we will be more than happy to give you a full refund as long as it hasn't been longer than 30 days since your order was delivered to you.
Contact our customer support department if you require any assistance, support@composebeauty.com